May Bertha Graves
ID# &nbsp483, (1872-1963)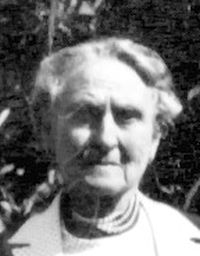 Bertha May Graves


May Bertha
Graves
was born on 24 August 1872 in
Battle Creek, Tehama County, California
.
1
She was the daughter of
Roswell

Graves
and
Eugenia C

Clapp
.
1,2
She married first
W M

Thompson
on 27 May 1888 in
Linn County, Oregon
. She married second
James C

Newkirk
about 1899.
3
She and James C
Newkirk
lived in
Weiser, Washington County, Idaho
, in 1900.
3
She and James C
Newkirk
were divorced after 1901.
4
After 1901, May Bertha Graves was known as Bertha May Graves, perhaps in order to "hide" from her ex-husband James Newkirk.
3
She lived in
Concrete, Skagit County, Washington
, on 8 May 1912.
5
She married third
Joel Thrap

Sealock
, son of Harrison
Sealock
and Maria
Mealy
, on 20 March 1916 in
Santa Rosa, Sonoma County, California
.
1
Bertha and Joel operated a chicken ranch at Sebastopol, California, until his death late in 1937.
6
She lived in
1588 Orchard St, Santa Rosa, Sonoma County, California
, on 22 April 1944.
7
She died on 15 March 1963 in
Santa Rosa, California
, at age 90.
2
She was buried in
Sebastopol Cemetery, Sebastopol, Sonoma County, California
G
.
8

Late in life, Bertha reminisced about her early life:
"When we lived in Little Shasta, I think in 1879, President Rutherford B. Hayes and General Tecumseh Sherman made a trip up the coast by stage - no railroad went through there in those days. It was Sunday evening when they reached Yreka, and an arch of lighted Chinese lanterns formed the work "Welcome" across the main street.
Mrs. Hayes' hairdress fascinated me. I suppose it was the latest thing in "hairdos" - buns over each ear.
I also saw "Teddy" Roosevelt with his big smile in Butte, Montana; William Howard Taft in Bellingham, Washington; William Jennings Bryan in Pendleton, Oregon; Booker T. Washington in Bellingham, Billy Sundy in Spokane and Sedro Woolley, and Gypsy Smith in Seattle. Gypsy Smith was the best preacher I ever heard, and Bryan the best political speaker."
6
Additional notes for Bertha May Graves:
"When I last left off, I was going to tell you what I have heard about Aunt May's life. Bill Schlaman gave me a copy of the letter you had sent him that was written from Ella to Aunt May, in 1888 when Agnes was planning to get married. Ella said "I'm sorry Dr feels so miserable but hope he will soon be better." That would have been Dr. W.M. Thompson, who Aunt May was persuaded to marry when she was only 15 years old and he was an old man, who needed someone to take care of him and his home, and offered to provide Aunt May with a home. She and Dr. Thompson were married on 27 May 1888 in Linn County, Oregon. Many years later, in a letter to my mother, Aunt May made a reference to feeling like she had been "cast out of the family like a Chinese girl baby."
"Dr. Thompson lived for several years; I have 1896 as his death date but I don't know where that comes from. I was told that when he died, Aunt May loaded what possessions she owned into a wagon and drove a team across Oregon to where my grandfather was at the time - possibly in the Pendleton area. It seems likely that Dr. Thompson had grown children by a previous marriage but I know very little about him.
"Aunt May remarried, probably in 1899, to a J.E. Newkirk. I found them in the 1900 census living near Weiser, Idaho. The story about Newkirk is that he was an abusive drunk who beat her. She was pregnant with twins, and near term, when he locked her out of the house one night. My grandfather happened to be going to see her the next day, and found her sitting on a wagon in the barn, in hard labor. Her babies were born dead and she buried them in their christening gowns. I have two photographs of them. Aunt May must have left Newkirk at that time and gone to live with my grandfather, and filed for divorce. She changed her name from May Bertha to Bertha May so Newkirk couldn't find her, and she probably went back to her maiden name. He would have known her as May Thompson and not Bertha Graves.
"She went to Normal School to become a teacher, and made friends with Minnie Downs and introduced Minnie to her brother Bert. He had been an "old bachelor" but fell in love with Minnie and courted her, and eventually married her - my grandmother. I have his "love letters" somewhere around the house, which Minnie kept and treasured all her life even though their marriage had some rough patches.
"Aunt May went on to be a teacher in the state of Washington and was proud that she earned a "lifetime teaching certificate" from that state. She eventually met Joel T. Sealock and they were married in 1916 and moved to the Santa Rosa and Sebastopol area in California. She was very happy with him.
"I remember that Aunt May kept "Roller canaries" as pets in her home in Santa Rosa when we visited her. I was 15 at the time and we all drove out to the Sebastopol Cemetery to see the graves of Rev. Graves and Joel Sealock, and the empty one in the middle where she said she was going to be buried when she died. I've been there a few times since then, and my husband's niece now lives in Sebastopol, so we have reason to go there once in a while although it is more than an hour's drive from here. I have taken flowers a couple of times."
3
------------------------------
"At the time when the city of San Francisco closed all its cemeteries and moved all burials to Colma, "Auntie Sealock" had her father's body moved from the city to its permanent resting place in Sebastopol, Sonoma County, Calif., and she rests between him and her beloved husband, Joel Sealock.
"Aunt Sealock (still called Aunt May by many nieces and nephews) was very interested in the Graves family history and spent many hours at the Sutro Library in San Francisco, and left several notebooks for her nieces and nephews with much family data recorded in them. Her penmanship was remarkable, and she was a prolific letter-writer until late in life."
4