Hilda Jordan
ID#&nbsp2907, (1902-1964)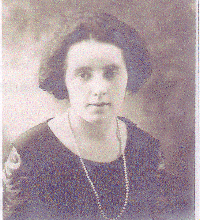 Mary Hildegard Jordan

Hilda
Jordan
's full name was Mary Hildegard Jordan. She was born on 14 July 1902 in
South Crosby Twp, Leeds & Grenville County, Ontario
.
1
She was the daughter of
James Edward

Jordan
and
Catherine

Burns
.
1
She married first
James Wilfred

Regan
, son of
John Joseph

Regan
and
Mary Ann

Byrne
, in 1933.
1,2
She married second
Ambrose

Garvin
.
1
She died on 22 January 1964 in
Kingston, Frontenac County, Ontario
, at age 61.
1
She was buried in
St Columbanus Cemetery, Elgin, Leeds & Grenville County, Ontario
G
.
1
"Hilda went to Clear Lake School and then went to high school in Westport. She went to Ottawa Normal School and taught in many one room schools around Elgin. She helped her sisters financially so they could continue their schooling. She married Wilfrid Regan and lived on the Regan farm. After Wilfrid died she ran a bed and breakfast for fishermen at the Regan farm in Chaffey's Locks. During the winter months, her mother and Aunt Minnie lived with her in Elgin. She married Ambrose Garvin and taught at St John's and St Joseph schools in Gananoque. Hilda died from a malignant brain tumour."
1